The MK7 2015 GTI has been around a little while and performance parts are starting to trickle in. As more of the parts come around we are seeing more data in regards to how tuner friendly the MK7 GTI 2.0T Engine is.
Let start with the basics. Generally when you are looking from more performance out of your turbo charged VW or Audi the best place to start is software. The reason why software is the best choice the get performance gains from your VW or Audi is because you get the most bang for your buck.
Info about Tuning Software on your MK7 GTI Here
Here are the most common performance modifications on VW and Audi's
Performance Tuning Software (Chip) - Gains on most VW and Audi's 50-60hp
Free Flowing Intake System - Gains on most VW and Audi's 8-12 hp
High Flow Down Pipe (usually with High flow Cat) - Gains on most VW and Audi's 15-20hp
Cat Back Exhaust - Gains on most VW and Audi's 15-20hp
Performance High Flow Intercooler
On the VW MK7 GTI however the performance gains from Performance (Chip or Flash) Software are much more significant. The numbers for the Unitronic Stage 1+ Software we put on our GTI are 76hp and 85lbft. This is a significant increase over previous VW models making the MK7 GTI the most cost effective GTI to tune yet. As you can see below from our actual at the wheel dyno numbers we saw an increase of 75hp and 43lbft. Normally when you look at HP and TQ claims from tuners your have to calculate for roughly 12% loss of power though the drivetrain (the transmission and other parts rob some of the power).
Here is the Dyno Sheet from our VW MK7 GTI with a Unitronic Stage 1 Plus Software Tune
MK7 VW GTI Stock (w/ MK7 GTI VWR Intake)
Wheel Horsepower - 207
Wheel Torque - 282
MK7 VW GTI w/ Unitronic Stage 1 Plus Software
Wheel Horsepower - 282
Wheel Torque - 325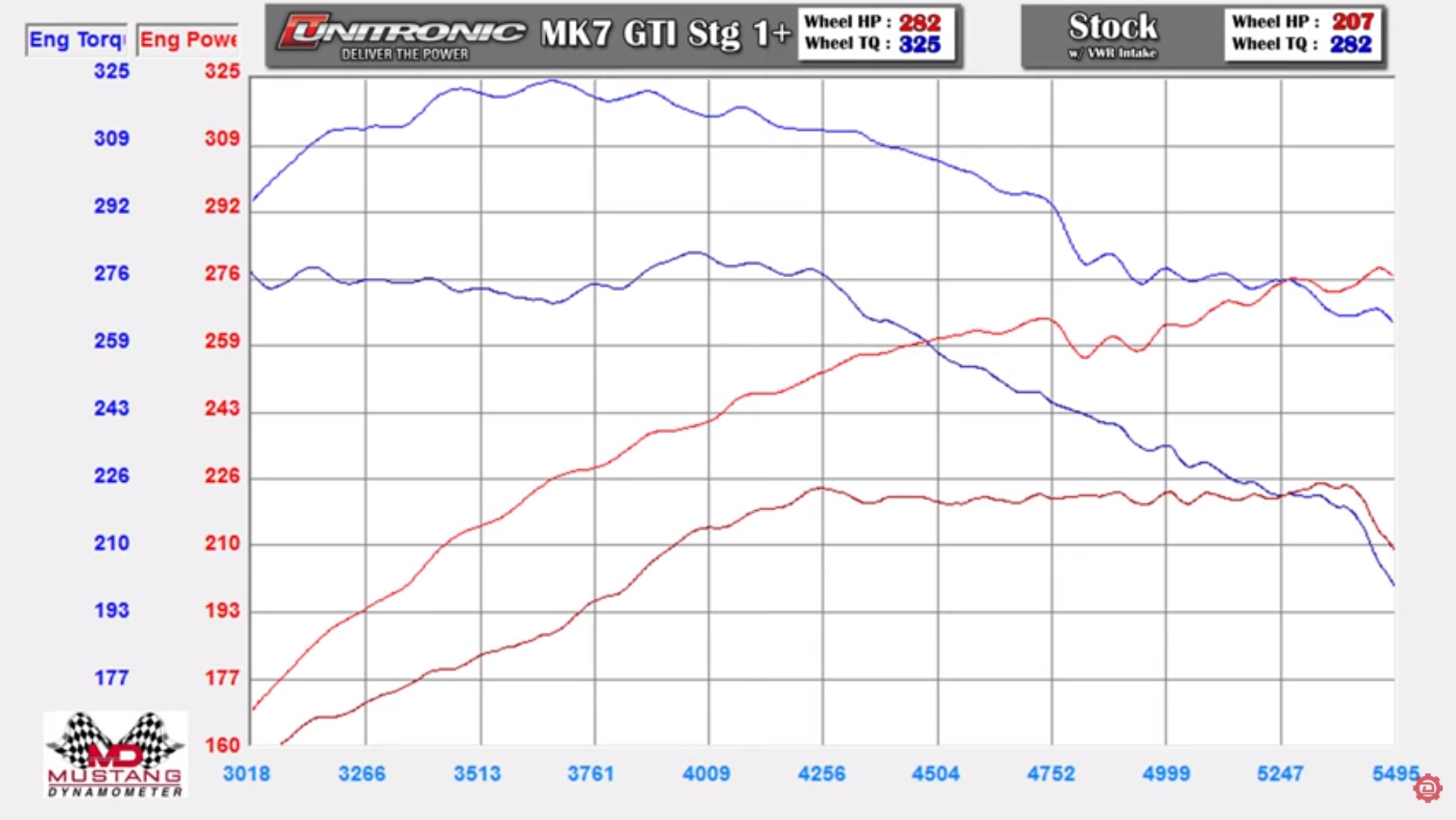 Here is the Dyno Video we shot of our MK7 GTI while doing before and after Dyno pulls, done in Mooresville NC
Thanks to they guys at Taylors Sport n Imports for helping us with this Dyno. The pulls for this car were all done the same day and were done on a Mustang Dyno.
If you are looking to tuning or performance Software on you VW or Audi Give us a shout. We are located in the Lake Norman Area just North of Charlotte NC. Give us a call if you have any questions about what we can do to get more power out of your VW or Audi engine.
Deutsche Auto Parts
Your Source for VW or Audi Tuning in the Charlotte area
18525 Statesville Rd
Unit D4
Cornelius NC 28031
Email: [email protected]
Phone: 704-997-8004