Thank you so much for visiting our page.  Hopefully the info below is interesting and helpful.  If you find this info useful we would really appreciate your support.  We offer this along with many other helpful DIYs to the VW and Audi community.  The only thing we ask for in return is your support when you are ready to make a purchase.  Your support allows us to continue to commit the resources to create pages just like this one.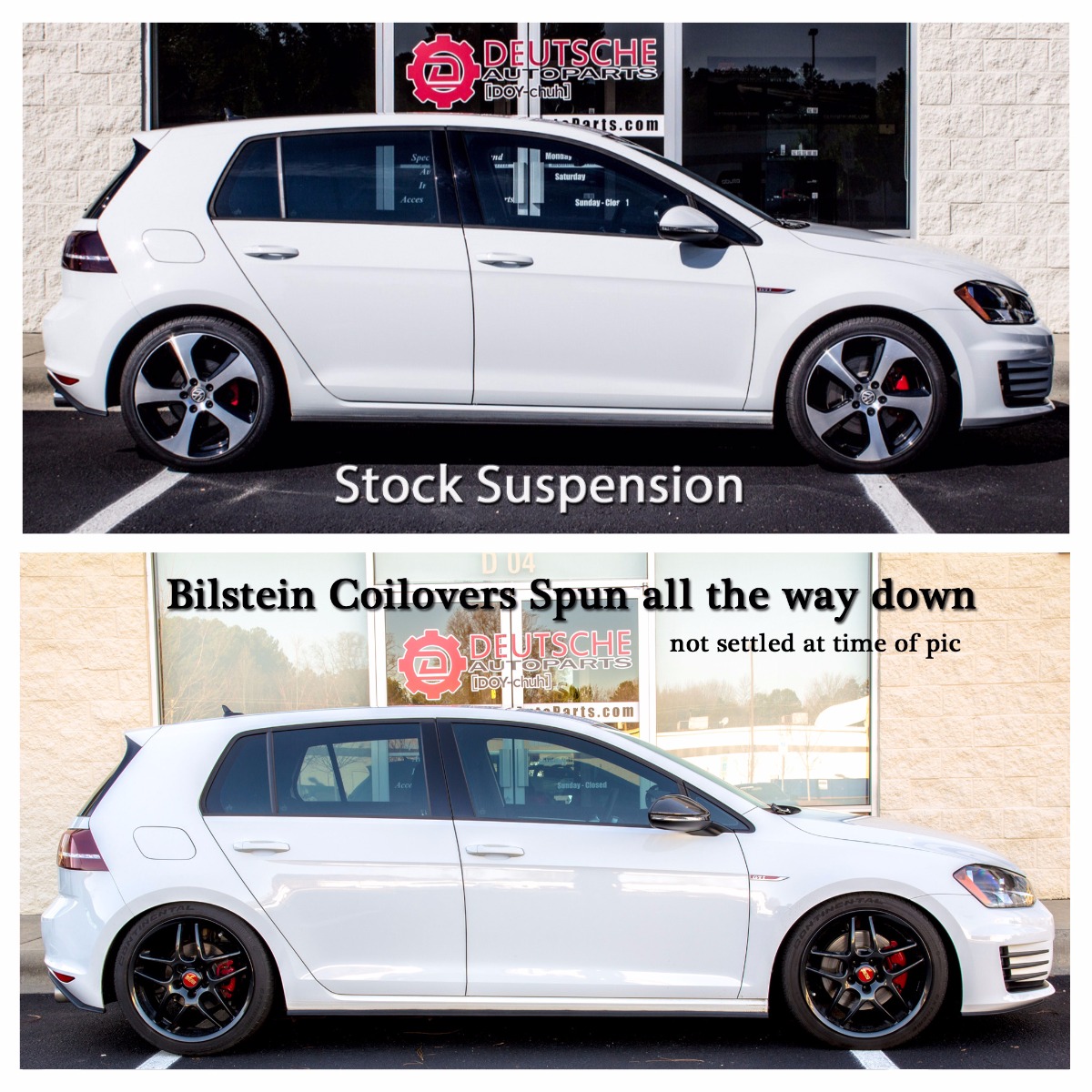 Coilovers are a great way to get precision lowering on your VW MK7 and get dampers designed to improve the handling of your VW MK7.  Lowering your vehicle with springs is a great way to get a lower stance, but if you're looking to improve the handling of your suspension coilovers are the way to go. Videos Below
The factory dampers (Shocks and Struts) are engineered to balance performance and comfort, and are generally lean in the direction of comfort.  The dampers are also designed to have a certain amount of travel.  When you install lowering springs on your vehicle you have removed part of the travel of the dampers.  This means the dampers from your vehicle no longer have the starting baseline they started with, and may run out of travel depending on how much you lower the vehicle (around 1 inch is generally ok).
Coilovers are a combination of springs and shocks with an adjustable spring perch.  Adjusting the spring perch allows you to raise and lower the ride height of the vehicle.  This will allow you to set the vehicles stance for the desire look or even corner balance the vehicle (this is something done to balance the car for track use).  Another benefit of coilovers is the dampers are engineered for the specific springs used with the kit.  This should give you significantly better handling than lower springs alone.
Parts to replace when installing Coilovers on a MK7
When installing any suspension parts VW and Audi classify many of the suspension bolts and nuts to be intended for 1 time use.  We have put together 3 kits which include varying levels of the suspension parts you take apart when installing a MK7 suspension.  The Ultimate Suspension install kit we put together for anyone looking to make their install as easy as possible.  This kit includes the Strut Mounts, Strut bearings and rear shock mounts.  The ultimate kit is the best way to make sure you wont have an squeaking bushings after your install.  The Complete Suspension install kit includes every nut and bolt we removed in the video shown below, and the Basic Suspension install kit includes only the ones the VW specifies should be replaced.
-Ultimate Suspension Install Kit for MK7 (non DCC)
-Ultimate Suspension Install Kit for MK7 (DCC)
-Complete Suspension Install Kit for MK7
-Basic Suspension Install Kit for MK7
MK7 Golf and GTI Coilover Options
Solowerks Adjustable Height Coilovers for VW MK7 Golf GTI
ST X Coilovers for VW MK7 Golf GTI
H&R Street Performance Coilovers for VW MK7 Golf GTI
H&R Street RSS+ Adjustable Coilovers for VW MK7 Golf GTI
Bilstein PSS Coilovers for MK7 Golf and GTI
Bilstein PSS10 (Adjustable) Coilovers for MK7 Golf and GTI
 Here we have a DIY showing how to assemble the strut top of a VW MK7 to prepare for your coilover install
Here is our DIY showing a complete install on our MK7 GTI Coilovers
Something to Watch out for if your MK7 Has the Lighting Package (Xenon Headlights)