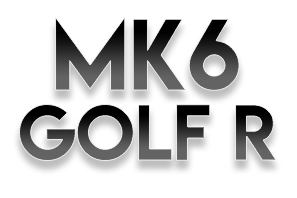 The MK6 Golf R platform debuted in the United States in early 2012. VW announced that the model would be limited to 5,000 cars in the United States across the 2012 and 2013 model years though the final production count ended slightly above this. The car shared many things with the MK6 GTI with a few big differences. Instead of upping the power output on the TSI in the then-current MK6 GTI motor, VW reached back into their parts bin. They ultimately decided to power the platform with the EA113 FSI motor from the previous MK5 generation with beefed up internals and a larger Borg-Warner K04 turbocharger making more power (256hp as rated by VW).
The MK6 Golf R was only available with a 6-speed manual transmission, a throwback to the original MK4 R32. VW noted that this was for cost-cutting measures and that offering both it and DSG in the United States would have increased overall costs and slowed initial production times. Overall, this decision was met with positive response by most of the VW community after the MK5 R32 was offered in DSG only. Many were sad to see the DSG go un-offered in the generation though.
Much like the MK5 GTI, this EA113 FSI motor in the MK6 Golf R can suffer from premature cam follower wear. If you are an 2012 or 2013 Golf R owner be sure you keep a close eye on this issue. The MK6 Golf R responds very well to performance mods such as cold air intakes, downpipes, catback exhausts, big brake kits, coilovers, and more. If you are looking to give your Golf R a new look, increase the horsepower, or are just looking for OEM parts, check out all of our options available from Deutsche Auto Parts below.